Who is Seido Juku?
Seido Juku Karate Edgewater promotes respect, discipline, self-confidence, 'non-quitting spirit', self-defense, fitness and emphasizes the importance of service in ones community through traditional Japanese karate training.
Classes are offered 2 days a week to all ages and ranks of students, children and adults. From fun Tot Martial Movement for 2 and 3 year olds to adult programming, Seido Juku offers the most extensive age group children's programming in Chicago.
Seido Juku maintains a
peaceful, respectful, safe, and non-violent studying environment.
Head Instructor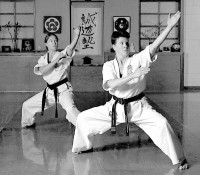 Senpai Joshua Keesecker (left) received his Sandan, 3rd degree black belt in Seido Karate in 2013 from Seido karate founder Kaicho Tadashi Nakamura at Honbu (headquarters) in New York City. Senpai Joshua Keesecker has taught and studied Seido Karate for more than a decade under the guidance of his teachers Sei Shihan Nancy Lanoue (6th degree) and Jun Shihan Sarah Ludden (6th degree) (see photo to right) at
Thousand Waves
Martial Arts & Self-Defense Center, NFP (TW). Joshua earned his Shodan, 1st degree black belt at TW in 2004.
At TW Senpai Joshua was Children's Special Programs Coordinator, head instructor of Little Kicks (ages 4-5), Camp Kokoro Director-summer camp, and staff instructor in all children's, teen, and adult programs, including instituting an adult fitness program to augment the karate training at TW. Prior to working at a full time capacity at TW Senpai Joshua created a children's program for ages 3 – 10 at Lakeshore Athletic Club (LAC) Fullerton in the Lincoln Park neighborhood.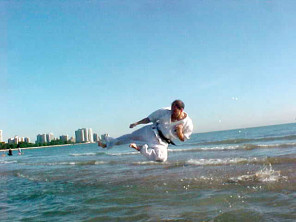 About Seido Juku Philosophy
Seido Juku is a place where students may feel a break from the outside world as they workout with their fellow karateka, taking a piece of their training with them into their lives and communities each time they train. We teach karate etiquette, tradition, respect of others and self, and adheres to Seido karate principles: love, respect, and obedience.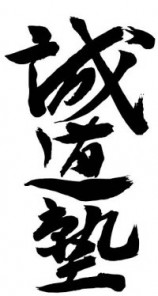 All students in Seido karate wear traditional white uniforms called GI's with two patches. On the shoulder is the Plum Blossom, the emblem of Kaicho Tadashi Nakamura's family and the World Seido Karate Organization. On the chest is Japanese writing that says Seido Juku. The word Juku means a special school, or academy where students study learn and grow. In recent times the word, like many martial arts has lost its way and has come to mean a 'cram school' for test preparation, however for Seido Juku Karate the traditional meaning remains paramount. Seido Juku is a place where students may sincerely grow in the way of karate and life.
The Seido Juku Karate Edgewater logo contains the plum blossom of Seido karate and a Japanese kanji-word, mizu, water. Water is ever flowing and flexible, it can adapt to any shape, it can move around the hardest obstacles, and over time water can even wear down and wear through them.
For children
Seido Juku is a place to develop self-respect, gain self-confidence and focus that can transfer from the dojo to home and school. It is a place to have fun, make new friends, and learn about each other's differences. Furthermore, karate is an effective physical exercise practice to instill lifelong healthy practices as well as a way to reverse childhood obesity, an epidemic facing American youth.