Programs for Children
Now offering classes at the High Ridge YMCA www.highridgeymca.org

At Seido Juku families can expect their children to be in a
safe, fun, challenging environment
. Students develop strong and healthy bodies, improve coordination, flexibility, and balance. They gain self-confidence, discipline, focus, learn traditional karate etiquette, including learning Japanese vocabulary, and practice respectful behavior while having a great time with their fellow
karate-ka
!
Children learn the reward of setting and achieving goals through a rank promotion system of patches, and belts, and practice leadership of their peers by setting good examples. Students also learn valuable lessons in
partnership, cooperation, self-calming skills, and self-defense
.
All children's classes at Seido Juku are divided into age appropriate programs, and there is a 15-minute window between classes to accommodate questions, concerns or specific attention from Senpai Joshua. Classes consist of formal karate kihon-basic techniques punching, kicking, blocking, stances kata-forms taught in an accessible way to each age group. Intermediate and senior level Youth students also learn kumite-sparring, basics and jiyu kumite-free sparring.
A training schedule of two (2) classes per week is suggested in all programs.
Promotion tests are offered quarterly. Senpai Joshua will ask students to test based on numbers of classes, time spent at current rank and knowledge of material as dictated by the Seido Syllabus.
Little Kicks (4-5)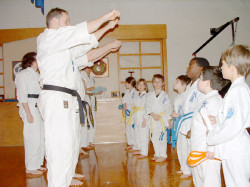 The Little Kicks program is a game based curriculum where children (4-5) learn real Seido karate technique and earn rank advancement. They learn
kihon
-basic technique,
kata
–martial moving forms, choreographed self-defense practice, bound through obstacle courses, strike and kick target pads and more!!
Tuesday and Thursday
3:15 - 4:00 pm


Juniors (1st and 2nd Graders)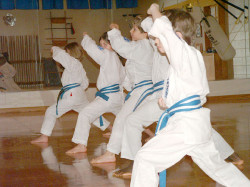 Students in the Junior Program are more used to group class settings and are ready for more challenges. The Seido Syllabus progresses more quickly in the earlier ranks of Juniors than in Little Kicks. Juniors practice
kihon
- basics,
kata
-forms, choreographed self-defense practice, obstacle courses, but with a format tailored to their new found interest and ability. This age group in general has more gross and fine motor skills, social group understanding, and a desire to learn more.
Monday and Thursday
6:15 - 7 pm

Youth (4th – 8th Graders)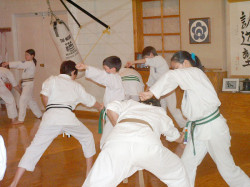 *teens 14 and older may opt to train in the adult program
Middle year elementary school children and pre-teens benefit from Seido karate training in more mature ways. More than ever in their lives this age group is beginning to have more difficult homework and extra curricular activities-they are growing up. Seido karate training is still fun but also becomes a stress release and a centering practice. Youth students benefit from the repetitious
kihon
-basics,
kata
-forms, strenuous physical workouts,
camaraderie with peers and focus Seido karate training requires.
Kumite
-sparring is introduced in the Youth program for students who have achieved intermediate rank, with 'Free-sparring' reserved for students in the advanced ranks of color belts and black belts.
Monday and Thursday
7:15 - 8:00 pm

Tot Martial Movement(2-3 year olds with parents)
Tot Martial Movement introduces Seido karate techniques and stances, develops balance, coordination, and flexibility in a fun work along class designed for child and parent or care-taker. Through familiar games adapted for karate training, students will learn real techniques, stances, Japanese vocabulary and have a great work out without even knowing it…truly the age of
shoshin
-beginners mind!!
Tuesday
2:30 - 3:00 pm
Thursday
10 - 10:30 am